The Land
In 2017, Fattoria La Maliosa grew. One and a half hectares of vineyards have been planted in the Monte Cavallo area, which we have renamed "Vigna Corino al Monte Cavallo". The "Vigna Anfiteatro" was also created from scratch.
Restructuring of the Vigna Madre has continued with new grafts of buds from the farm's vineyards.
We also started a re-grafting program in the olive groves, by changing the variety on a hundred young olive trees  with the Leccio del Corno cultivar.
The climatic trend of 2017 will surely be remembered as the driest and warmest ever felt in Maremma Tuscany.
Starting this year, we also have inherited the management of just over one hectare of an approximately 40-year-old vineyard in Valtellina (Lombardy), planted with the Chiavennasca variety. A rare example of heroic terracing in an environment rich in wine culture and history, as well as mountain produce.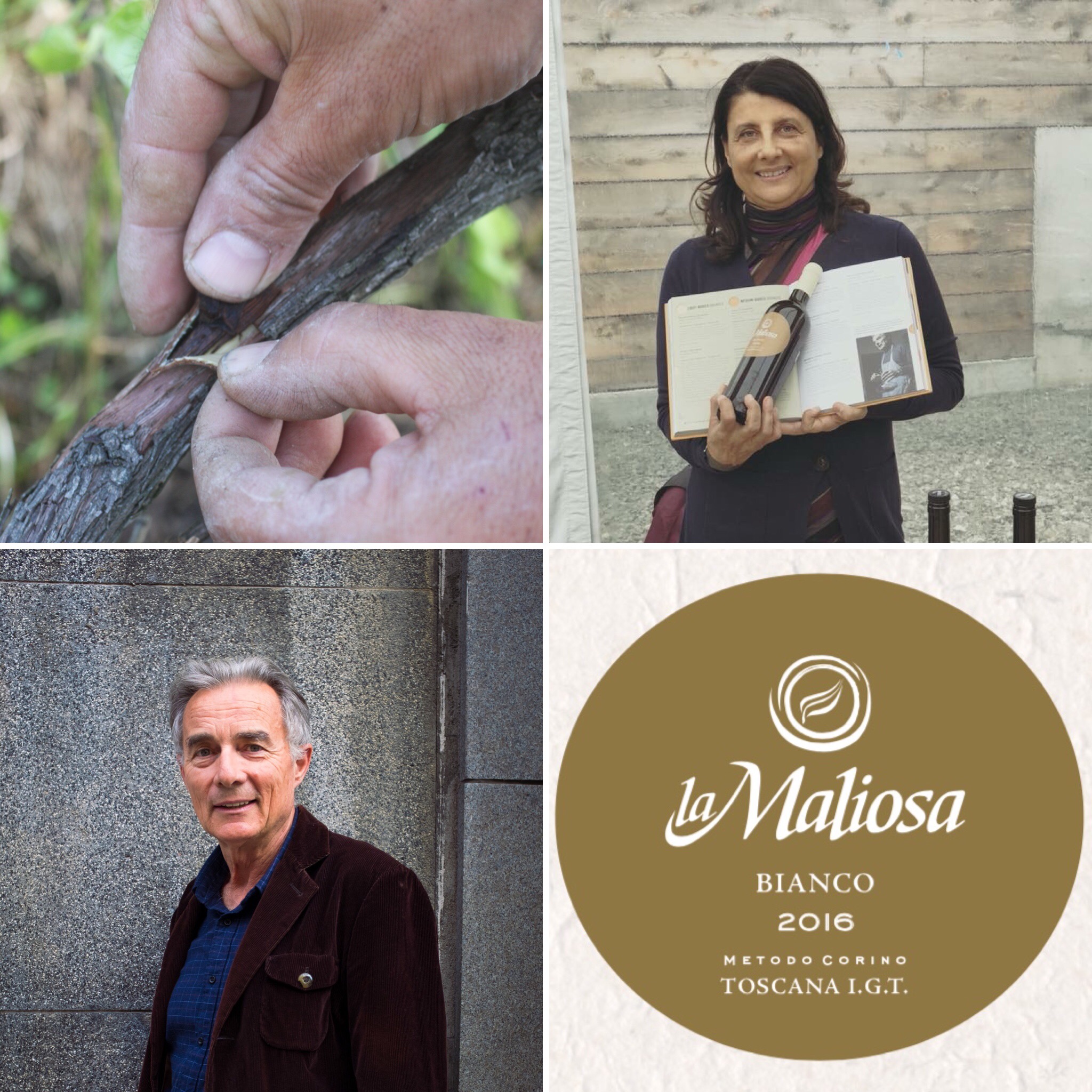 Metodo Corino 
After five years of working together, the Corino Method was born (procedure for the production of grapes and wine – by Lorenzo Corino and Antonella Manuli – Registered patent and registered trademark). The "Metodo Corino" represents the final codification of agronomic practices applied, mainly in viticulture, over the last 40 years by Lorenzo Corino and further developed and verified as part of the La Maliosa viticoltural project.
The first bottles to reach the market with "Metodo Corino" on the label have been La Maliosa Bianco 2016 and La Maliosa Rosso 2016.
The birth of the Metodo has attracted the attention of the university world, which has invited La Maliosa to hold lectures on two occasions:
– " Vigneto e Vino tra innovazione e tradizione: il Metodo Corino" – Master Class within the seminar of the Master in Economics and Management of Communication and Media at the University of Tor Vergata (Rome)  "Food Wine & Co – Food Innovation" (November 24th);
– "Metodo Corino a La Maliosa" dedicated to students in their final year at the Faculties of Economics and Oenology, University of Verona (December 13th);
Cultural production
2017 has been a busy year for us culturally:
– The book Vineyards, wine, life by Lorenzo Corino was presented on multiple occasions – Milan, Turin, Asti, Lecco, Pitigliano, Sorano, Città di Castello, Stockholm (Sweden), Ghent (Belgium);
– The essay "La Biodinamica vegetale: il futuro del vino naturale" by Antonella Manuli and Lorenzo Corino, featured in Future Energy, Future Green– Antologia del Verde che c'è già e di quello che verrà – Istud Foundation, Green Economy Observatory, published by Mondadori University;
Promotion
We continue to work in many international markets and have started sending our wines to New York and California.
Events
– Extra Lucca, February;
– "Festa delle Donne del Vino 2017" (a widespread event conceived by the Associazione Donne del Vino) at the Corte del Ceccottino in Pitigliano, March;
– Raw Wine Fair, London, March;
– ViViT Vinitaly – tasting la Maliosa Bianco with Ian d'Agata, Verona, April;
– Maremma Meets Bordeaux in Scansano – La Maliosa spoke at the conference – May;
– PURr, Belgium, June;
– Collisioni – Tasting with Ass. Donne del Vino, Maliosa Bianco, Barolo, July;
– Events dedicated to Metodo Corino wines, Stockholm, August;
– Raw Fair, New York, November;
– Raw Fair, Los Angeles, November;
– Golosaria – Tasting of the Top Wines 2012/2017, present with La Maliosa Bianco, Milan, November;
Guides & Publications
– La Maliosa Caletra 2016 extra virgin olive oil, featured on 2017 Oli Monovarietali Catalogue with a score of 7;
– La Maliosa evo oils chosen as part of the Oil Slow Food Project;
– The book Natural Wine by Isabelle Legeron featuring tasting  notes of La Maliosa Bianco
– You can read about us on the guide La Tuscia del Vino 2017 by Carlo Zucchetti;
Awards
– Biomiel March 2017;
– Biol Silver Medal on April 2017 for La Maliosa Caletra 2016 (Leccio del Corno);
– Biolnovello Extra Gold Medal for La Maliosa Caletra 2017 (Leccio del Corno monovarietal);
– La Tuscia del Vino 2017/18 award with "Cappello" from Carlo Zucchetti "for a project that encouraged the study and development of the Metodo Corino  which aims to preserve the vitality of the soil, safeguard the complex world of relationships that exist in the vineyard and maintain a healthy environment";
We thank our united and motivated team made by Azelio, Carlo, Jacopo, Viorel, Federico, Davide, Paola, Sara and Debora. We wish you a safe and happy holidays and a 2018 that brings you joy and creativity in every project you undertake!
Antonella and Lorenzo