Fattoria la Maliosa is located between the basins of the Fiora and Albegna Rivers (province of Grosseto, Tuscany) and has highly diverse origins: it's located in a typically hilly area with important morphological diversity including the stratification that composes it. In addition, the geological history of our territory developed over a very long period of time between 10 million and 10,000 years ago, that is, between the Lower Miocene to Upper Pleistocene Epochs.
The whole area is the result of significant waterway flooding. The crucial training element is the large marine-type sedimentary basin where the highest hills are the backbone and the surrounding areas, the deep-sea shallows.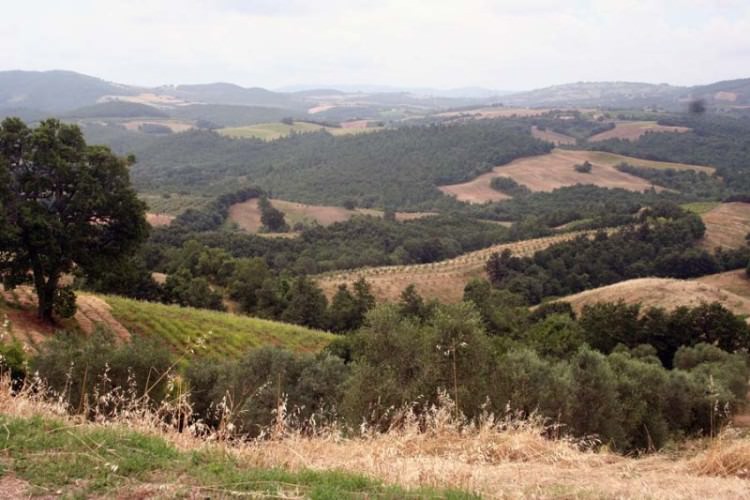 Over the years, farming has tended to determine where the different crops (forests, pastures, olive groves, vineyards) are planted. Even at La Maliosa, the location for the new vineyards was closely studied and in 2014, we created new installations in Monte Cavallo (about 2 ha) and Santa Francesca (1 ha).
350 metres above sea level, Monte Cavallo is formed by stream deposits with prevailing coarse sediments and conglomerates. These events occurred in a time frame between 10 million years up to 2 million years ago. This environment has limited fertility and is therefore particularly suitable for the vineyard.
At Santa Francesca, 220 MASL, however, the most prevalent characteristics are clay sediments with marl and micro-cobblestones and also commonly gypsum (calcium sulphate) crystals. These aspects allow us to date this area at between 1.8 million years and 10,000 years ago. The soil has a good amount of clay and should encourage regular vine growth.
In implementing these programmes and in view of the limited agricultural resources of the land in question, we were particularly dedicated to preserving the soil's natural fertility.
Lorenzo Corino and Antonella Manuli