The neighbouring locals in Lazio call them "tozzetti". The recipe is pretty much the same but instead of almonds, ours are studded with delicious hazelnuts from Cimini.
They appear on the dessert menu of almost every Tuscan (and not only) restaurant and are usually served with a glass full of liquid "spirit" in which you dip before you taste to soften them a bit.
Tasty, friable and genuine, they're like cherries, once you have one, you can't stop. We have prepared them with our Mild Extra Virgin Olive Oil Toscano IGP, which, thanks to its delicate flavour, can be used in the place of butter to prepare light, healthy and delicious cakes.
These cantucci will keep for days and are perfect for a homemade gift just in time for the Christmas holidays.
But beware, you may run the risk of someone asking you for the recipe ;-)!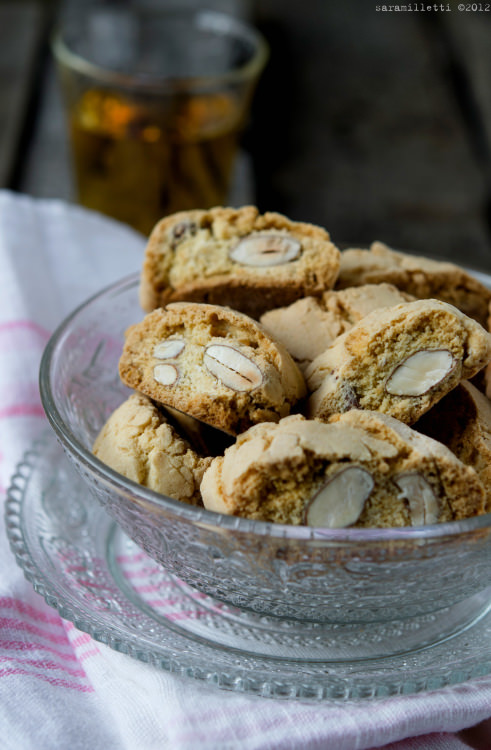 Tuscan Cantucci with Extra Virgin Olive Oil
Makes about 750g of cantucci
200g of peeled almonds
220g of sugar
420g of plain flour
peel of 1 organic orange
2 eggs
40g of La Maliosa Biodynamic Mild extra virgin olive oil
2 tablespoons of Marsala
1 teaspoon of cream of tartar
1 teaspoon of baking soda
Method
Wash and grate the orange peel. Combine with the sugar and mix with a wooden spoon. Beat the eggs slightly and work them into the mixture with a wooden spoon until foamy.
Pour in the oil and Marsala.
Add the almonds. Sift in the flour, baking soda and cream of tartar. Knead until the mixture is smooth. Form small loaves, each about 3cm wide.
Arrange on a baking tray covered with baking paper.
Bake in a preheated oven at 180°C for about 25 minutes.
Remove the pan from the oven and gently cut the loaves to get cantucci that are about 2cm thick. Bake again for about 10-15 minutes or until golden brown.
Remove from the oven and cool on a cake rack.
Store the cantucci in a tin container or zip lock bag
Serve with a glass of our La Maliosa Bianco Maremma Toscana IGT.