While describing all the ingredients and method, it wasn't until those listening heard me say "and finally, crack the eggs into the pot" that they stopped me from going any further, saying "ah, I understand, acquacotta". They were right. I'd made acquacotta, a poor man's soup, one eaten by the cowboys when they were "out" following the herds and carrying their "catana", a large leather haversack that usually contained the soup and a bottle of red wine. Made with ingredients that are readily available and balanced from a nutritional point of view, acquacotta is still widespread in the Maremma and is emphasised and promoted in many restaurants that serve a typical regional menu. As with any traditional recipe, acquacotta has been passed down in different versions, but any soup that claims to have this name must categorically include among its ingredients a decisively flavoured Tuscan Extra Virgin Olive Oil (and its quantity must be sufficient to cover the bottom of the pan in which you cook the soup), tomatoes, onion, unsalted Tuscan bread and eggs.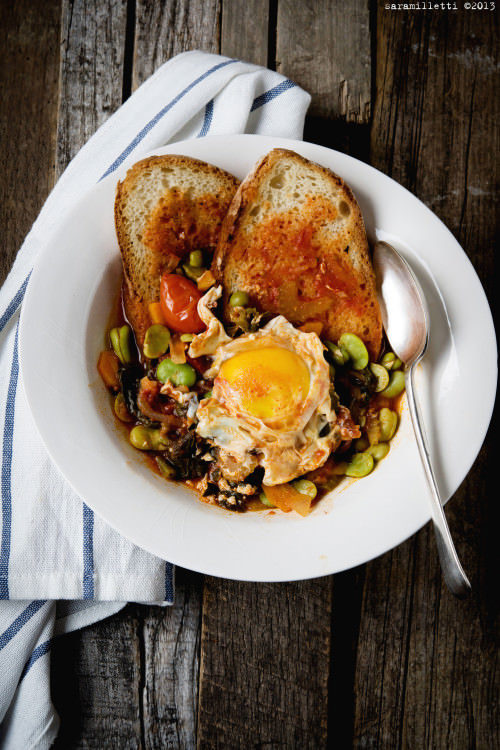 Acquacotta alla maremmana
Serves 4
2 carrots (180g)
1 golden onion (100g)
100g of celery
160g of shelled beans
280g of vine ripened tomatoes, chopped
240g of washed fresh spinach
120g of peas
4 sage leaves
chilli
1 clove of garlic
4 slices of unsalted Tuscan bread
4 eggs
La Maliosa Biodynamic Extra virgin olive oil
salt
Method
Wash the spinach and cut into strips. Cut the onion into thin slices. Cut the celery into small pieces, peel and cut the carrots into rounds. Cover the bottom of a deep saucepan with olive oil. Add the onion, celery, carrots, chilli and sage leaves, and cook over a high heat. When the onion is transparent, add the tomatoes, which have been previously chopped and deseeded. Add the peas and then the beans. Season and cover with water before bringing to the boil. When the vegetables are cooked, crack in the eggs being careful not to break the yolks. Cook until the egg white is no longer transparent. In a hot pan, toast the bread and flavour it by rubbing with a clove of peeled garlic. Place a slice of bread on the bottom of each bowl. Pour over the hot soup and an egg. Serve immediately.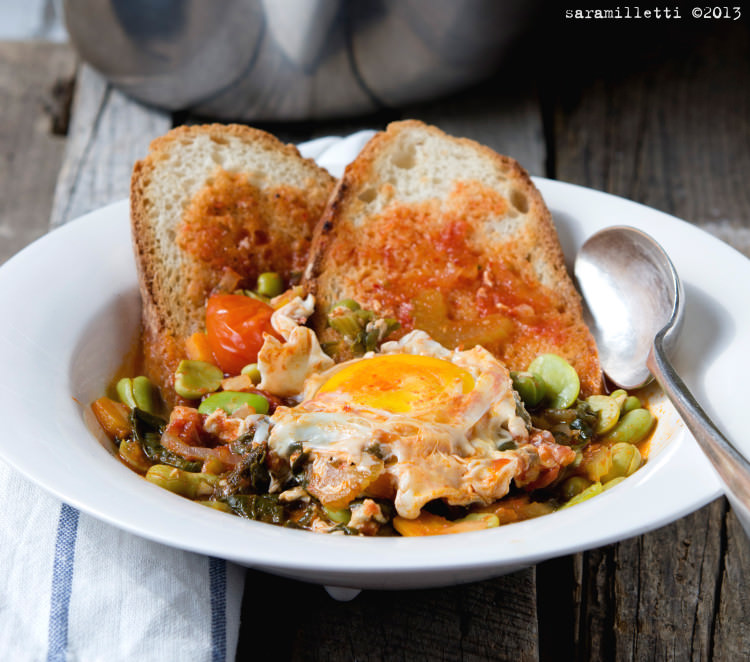 Recipe, styling and photos Sara Milletti